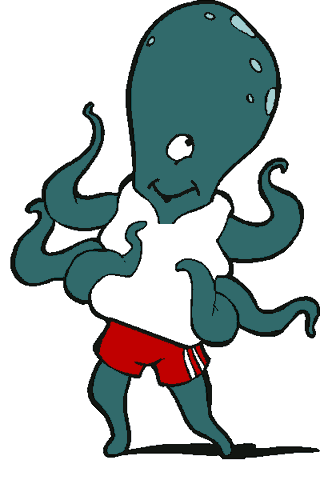 It is a fan tradition during Detroit Red Wings playoff games to throw octopi onto the ice surface for good luck.
During the playoffs, Joe Louis Arena is generally adorned with a giant octopus with red eyes, nicknamed "Al" after Joe Louis Arena head ice manager Al Sobotka.
The 1952 playoffs featured the start of the tradition-the octopus throw. The owners of a local fish market, Pete and Jerry Cusimano, threw one from the stands onto the ice. The eight legs were purportedly symbolic of the eight wins it took to win the Stanley Cup at the time. The Red Wings went on to sweep both of their opponents that year en route to a Stanley Cup championship. The NHL has, at various times, tried to eliminate this tradition but it continues to this day.
Al Sobotka is the man responsible for removing the thrown creatures from the ice. He is known for swinging the tossed octopi above his head when walking off the ice. On April 19, 2008, NHL director of hockey operations Colin Campbell sent a memo to the Detroit Red Wings organization that forbids Zamboni drivers from cleaning up any octopuses thrown onto the ice and that violating the mandate would result in a $10,000 fine; instead, the linesmen will perform this duty. In an email to the Detroit Free Press, NHL spokesman Frank Brown justified the ban because "matter flies off the octopus and gets on the ice" when Al Sobotka does it. This ban, however, was later loosened to allow for the octopus twirling to take place at the zamboni entrance.