The Maurice Richard Trophy was donated by the Montreal Canadiens to the NHL in 1999, and was first awarded at the end of the 1998-99 season. It is one of the newest of the NHL's trophies and is named in honour of the legendary right winger Maurice "Rocket" Richard, who spent his eighteen-season career with the Canadiens. He led the NHL in goal scoring five times and was the first NHL player to reach the 500 goal milestone. In 1944-45, Richard became the first player in NHL history to score 50 goals in one season, doing so in just 50 games, the latter feat only achieved by a handful of players since then. However, the scoring title eluded Richard, and the closest that he got to it was in 1954.
Although the NHL's leading points scorer often wins the Hart Memorial Trophy as league MVP, only Alexander Ovechkin and Corey Perry have won both the Richard and the Hart in the same season; Ovechkin has done so twice, in 2007-08, and 2008-09. Eleven players both won the Hart in the same season in which they led the league in goals before the Richard Trophy was first awarded. Unlike the Art Ross Trophy, there are no tiebreakers for the Richard Trophy. As a result, it is possible for several players to share the award.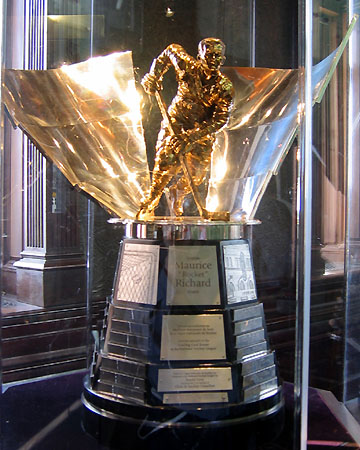 Season
Winner
Team
Goals
1998-99
Teemu Selanne
Mighty Ducks of Anaheim
47
1999-2000
Pavel Bure
Florida Panthers
58
2000-01
Pavel Bure
Florida Panthers
59
2001-02
Jarome Iginla
Calgary Flames
52
2002-03
Milan Hejduk
Colorado Avalanche
50
2003-04
Jarome Iginla
Calgary Flames
41
Ilya Kovalchuk
Atlanta Thrashers
41
Rick Nash
Columbus Blue Jackets
41
2004-05
- No winner -
- NHL lockout -
-
2005-06
Jonathan Cheechoo
San Jose Sharks
56
2006-07
Vincent Lecavalier
Tampa Bay Lightning
52
2007-08
Alexander Ovechkin
Washington Capitals
65
2008-09
Alexander Ovechkin
Washington Capitals
56
2009-10
Sidney Crosby
Pittsburgh Penguins
51
Steven Stamkos
Tampa Bay Lightning
51
2010-11
Corey Perry
Anaheim Ducks
50
2011-12
Steven Stamkos
Tampa Bay Lightning
60
2013
Alexander Ovechkin
Washington Capitals
32
2013-14
Alexander Ovechkin
Washington Capitals
51
The current holder is Alexander Ovechkin of the Washington Capitals, who scored 51 goals during the 2013-14 season.
Alexander Mikhaylovich Ovechkin (born September 17, 1985, Moscow, Soviet Union) played for HC Dynamo Moscow of the Russian Superleague for four seasons from 2001 until 2005. He was selected first overall in the 2004 NHL Entry Draft by the Washington Capitals. He won the Hart Memorial Trophy as league MVP in 2008 and again in 2009. It is the fourth time Ovechkin has won the Maurice 'Rocket' Richard Trophy. He previously won in 2007-08 scoring 65 goals; in 2008-2009 scoring 56 goals; and in the lockout shortened 2013 season scoring 32 goals.